Due to the recent school closure, HPS teachers have put together weekly home learning tasks for their class.
It is vital that your child continues their learning at home, with your support. You will find many links to free resources, online learning websites and online safety information on the School Closure - Home Learning page.
HPS HOME LEARNING – COVID 19
Every Monday morning, a weekly document will be uploaded to your year group page (see below). Please work through the tasks set with your child – some tasks can be completed independently.

Children can record their learning in their homework books or on a word document/online doc such as google docs.

We have added an example of a daily timetable – please feel free to download and alter to suit. A timetable is helpful - it will keep your child focused, track the learning and maintain routine.
We understand that this is a difficult time for parents and carers - please know that we are here to support you through these unprecedented times and we will work together with a shared goal of keeping learning going throughout the Coronavirus pandemic. Please email homelearning@harlesden.brent.sch.uk or call the school on 020 89657445 if you have any queries.
Many thanks for your continued support,
HPS Class Teachers
** An important message for HPS students - The Childline service is available to get advice and help about a wide range of issues. Whatever problems you are facing, CHILDLINE is a place for you to turn for support – any time of day or night. ONLINE, ON THE PHONE, ANYTIME 0800 1111 – Don't keep it inside – talk to us. https://www.childline.org.uk/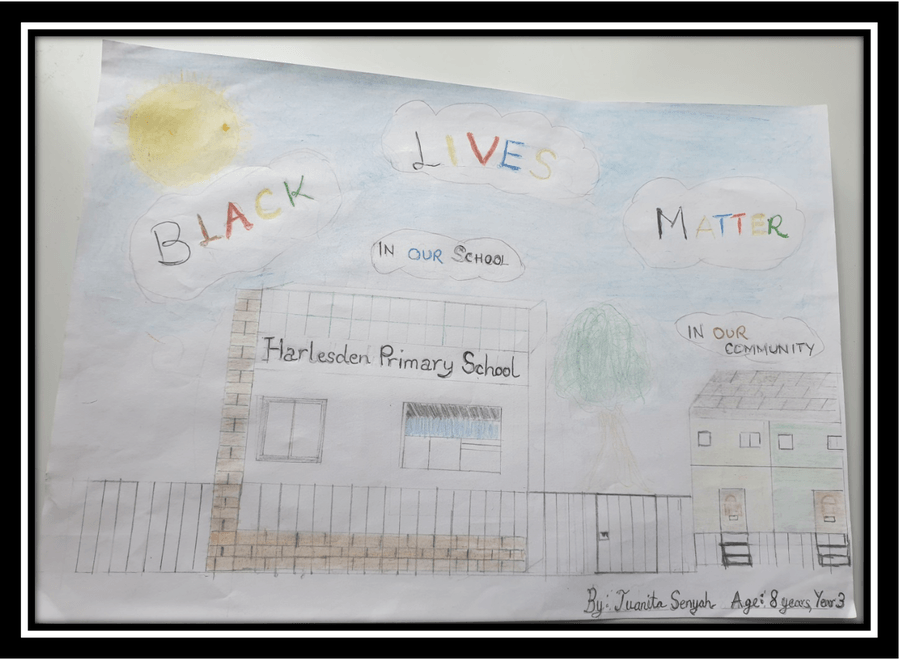 Check out Juanita's inspiring Black Lives Matter poster - thank you for sharing!
Uplifting posters for our key workers - created by talented Y3 students!
| Name | |
| --- | --- |
| Summer Holiday Home Learning Pack - YEAR 3 transition > YEAR 4.pdf | Download |
| Summer Holiday Answer Booklet - YEAR 3 transition > YEAR 4.pdf | Download |
| Home Learning - Year 3 - Summer Two - Week 6 beginning 6th July2020.pdf | Download |
| Home Learning - Year 3 - Summer Two - Week 5 beginning 29th June 2020.pdf | Download |
| Home Learning - Year 3 - Summer Two - Week 4 beginning 22nd June 2020.pdf | Download |
| Home Learning - Year 3 - Summer Two - Week 3 beginning 15th June 2020.pdf | Download |
| Home Learning - Year 3 - Summer Two - Week 2 beginning 8th June 2020.pdf | Download |
| Home Learning - Year 3 - Summer Two - Week 1 beginning 1st June 2020.pdf | Download |
| Home Learning - Year 3 - Summer Half Term beginning 25th May 2020.pdf | Download |
| Home Learning - Year 3 - Summer Term - Week 5 beginning 18th May 2020.pdf | Download |